Submitted by Sebastian Lisken on
BigBrotherAwards Germany 2022
This year's BigBrotherAwards gala took place on 29 April 2022 in Bielefeld.
Video of the Gala (English audio)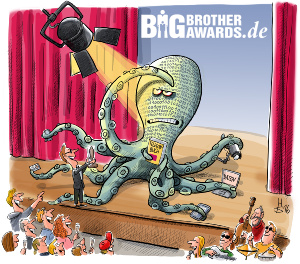 About BigBrotherAwards
The BigBrotherAwards highlight privacy and data protection offenders in business and politics, they have consequently been called "Oscars for data leeches" by the French paper Le Monde.
The German awards are organised and held by ► Digitalcourage. Among the co-organisers are the German Association for Data Protection (Deutsche Vereinigung für Datenschutz, DVD), International League for Human Rights and the Chaos Computer Club.