Submitted by palasthotel on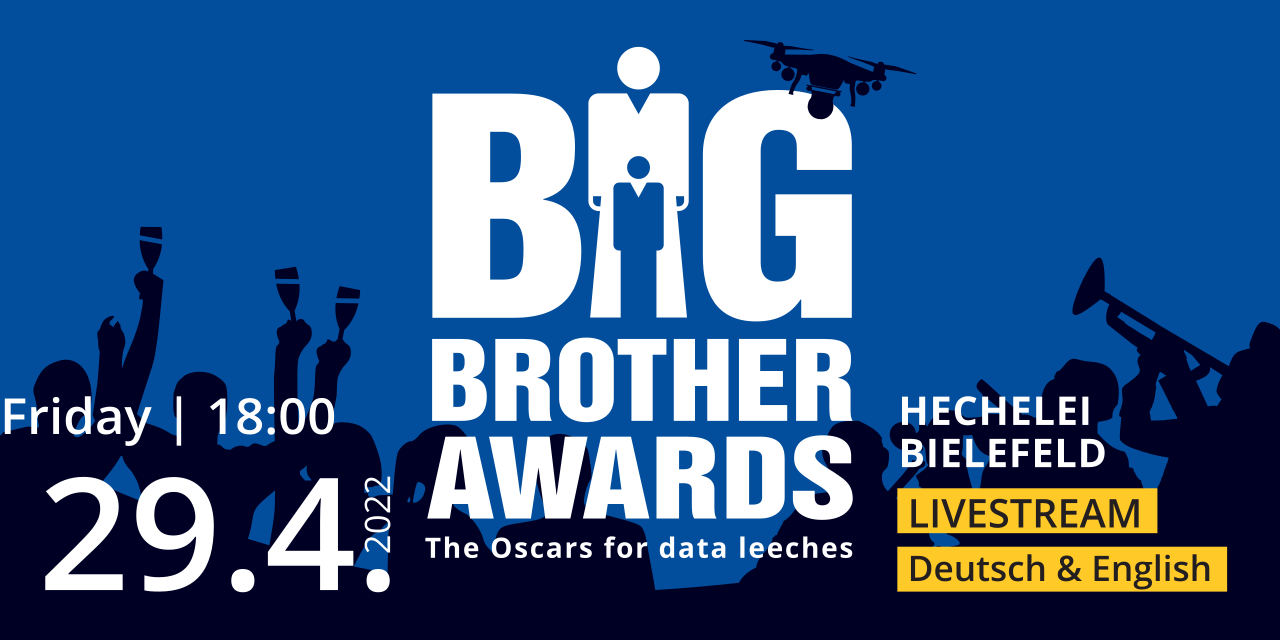 BigBrotherAwards 2022
We award the "Oscars for data leeches" (Le Monde) to the biggest data malpracticers of the previous year. Exciting, entertaining and easy to understand, our jury presents the results of thorough research.
The most recent gala took place on Friday, 29 April 2022, at 18:00 CEST (16:00 UTC) at the Hechelei in Bielefeld.
The (unlucky) winners 2022
The Federal Criminal Police Office, because through its insufficient labelling of records it risks that police or other government agencies might treat millions of people as dangerous or criminal without justifiied reason.
Bundesdruckerei (the "Federal Printer"), for misguided use and promotion of blockchain technology, which is not only vastly demanding of energy but can also have grave implications on privacy.
The Irish Data Protection Commission for its continued sabotage of the enforcement of European data protection law at Big Tech corporations.
The German food delivery service Lieferando for second-precision monitoring of its couriers.
Klarna for intransparently amassing data and power as a shopping service, payment service, app provider, price comparison portal, personal finance manager, bank and cash collector.
The BigBrotherAwards are effective
They made customer loyalty cards, credit scoring, toll cameras, color copiers and phone surveillance (in)famous, exposing them as threats to our fundamental rights. They issued early warnings about the electronic health card, tax ID and telecommunications data retention. Long before the big scandals at Lidl, Telekom (T-mobile), DB, etc. these companies were "honored" with BigBrotherAwards. An evening of active democracy by means of theatre, polished speech, music and dance.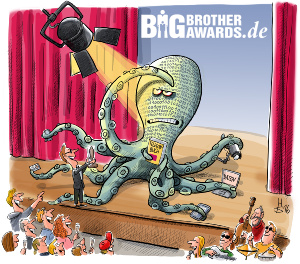 About BigBrotherAwards
The BigBrotherAwards highlight privacy and data protection offenders in business and politics, they have consequently been called "Oscars for data leeches" by the French paper Le Monde.
The German awards are organised and held by ► Digitalcourage. Among the co-organisers are the German Association for Data Protection (Deutsche Vereinigung für Datenschutz, DVD), International League for Human Rights and the Chaos Computer Club.